"CASALE CAMALDA"
 Biolandhof    Wanderzentrum
m. 678 s.l.m.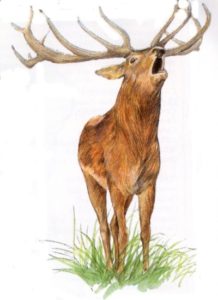 The Bells in the Forest



Take part in the census of the deer in the Foreste Caentinesi, Monte Falterona and Campigna National Park. (Tuscany – ITALY)

Those staying at Casale Camalda during September or the first week in October will have the opportunity to take part in an unforgettable experience: this is the time of year when male deer challenge each other and fight to determine who is the dominant male for mating with the females.
From dusk until dawn, the woods and the clearings around the farm resonate with the bells (i.e. their powerful and impressive calls) of these large mammals. The animals themselves are also easily spotted, even during the day, making it possible to organise photographic shoots. What's more, Casale Camalda is able to offer its guests the unique opportunity to take part in the annual nocturnal census of the deer population in the Casentino Forest National Park. For one or two consecutive nights, expert faunists and researchers train participants and then put them in silent and remote corners in the Casentino Forest in the search for the presence of large deer.

Our self-catering accommodation is in independent apartments in completely renovated, antique farm buildings and is ideal for small groups, families, couples or singles. The excellent local cuisine can be sampled at one of the nearby trattorias that serve traditional fare at convenient prices, thanks to our preferential arrangements.

Organic Farm Holidays- Hiking Centre
"CASALE CAMALDA"
Loc. Castagnoli-Serravalle, 33
52010 – Bibbiena (AR)
tel and fax: 0575 / 519104
www.agriturismocamalda.it
enniodallari@agriturismocamalda.it
.